Each time you upload artwork to your Artist Website, we create a beautiful webpage for you which is meticulously designed to encourage sales and position you at the top of Google's search results.
On each of your artwork pages, your image is displayed at a medium size on the left side. Smaller "print preview" images are shown on the right along with prices for the various print configurations. With one click, your visitor can preview your image with thousands of frame and mat combinations... select the configuration that he/she likes best... choose from 15+ available sizes (e.g. 36" x 48")... and make a purchase. No other artist website can do this!
Below, is a screen capture from Holly Kempe's artist website. Click here for the real webpage:
http://holly-kempe.artistwebsites.com/featured/praise-holly-kempe.html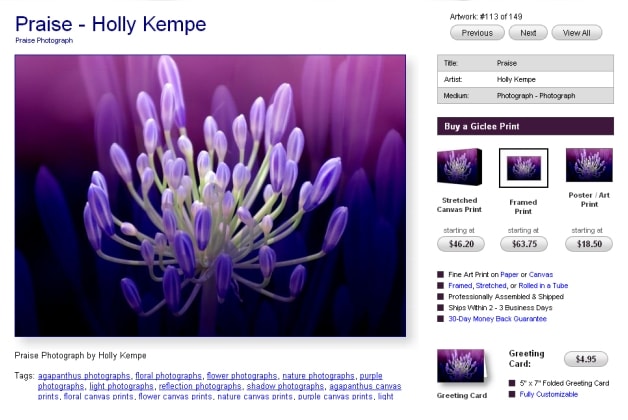 In order to sell prints online, you need to make your webpages visually appealing... user friendly... optimized for search engines... and designed to "draw in" your visitors and encourage them to configure an order.
Are you intrigued by the 3D rendering of the stretched canvas on the right hand side of the above page? Yes? Buyers are too! Everything on the page is designed to encourage sales. Your webpages are designed by the same designer who made FineArtAmerica.com the world's fastest growing art site.