As soon as you sign up for your Artist Website, you can start selling prints and greeting cards of your images - instantly! Yes - instantly.
All you need to do is upload an image... set your prices for the various print sizes that are available... and you're ready to go.
You're instantly ready to accept orders via Visa, MasterCard, American Express, and Paypal.
Buyers can purchase prints directly from your website with thousands of frame / mat combinations... and best of all, when you get an order, we take care of everything for you, including: printing, framing, matting, stretching, packaging, shipping, insuring, processing credit cards, dealing with your customers, and sending you your profits on the 15th of each month!
Seem to good to be true? We do this every day for tens of thousands of artists on FineArtAmerica.com. Now, we're going to do it for you on your very own website, as well!
Here's exactly how print sales work:
When you upload an image to your Artist Website, your website will tell you which print sizes are available based on the size of your image. The larger your image, the larger you can print! For each available print size, you get to specify how much you want to charge for that size (e.g. $50 for a 8" x 10", $75 for a 16" x 20", etc.). The prices that you specify are exactly how much you'll earn when someone buys one of your prints. Plus, you can earn even more...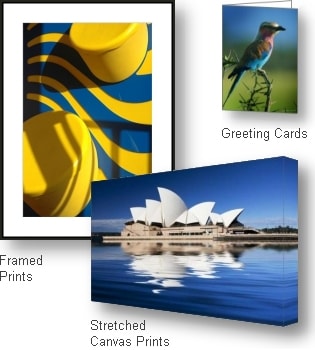 You can instantly start selling prints, framed prints, stretched canvas prints, and greeting cards directly from your website! We process the orders for you and send you your profits on the 15th of each month.
Real website examples:
Take a look at the examples, above. No other artist website can do this!
When someone orders one of your prints, that someone will almost certainly select a frame, mat, or other accessory to go along with the print. You will earn a 5% commission on all accessories that are selected!
For example, let's assume that a visitor to your website (or to FineArtAmerica.com) decides to purchase a 24" x 24" print of your artwork for $50 (i.e. $50 is the price that you set). Let's also assume that the visitor has selected a $100 frame and a $25 mat to go along with the print. The buyer would end up paying $175 for the order ($50 + $100 + $25), and your earnings on this sale would be $50 + $5 + $1.25 = $56.25. That's $50 for the print plus a 5% commission on the frame and a 5% commission on the mat. You'll also earn 5% on the price of the paper and any assembly charges (not discussed in this example for the sake of simplicity).
The buyer checks out right on your website and pays via credit card or PayPal. We take care of processing the order for you... and on the 15th of the following month, we'll send you a check or PayPal payment for $56.75. It's that easy! Just open an account with Artist Websites, and you can be selling in less than five minutes - literally! Our annual fee is $30 per year. You'll earn that back on your very first sale.