Using your Artist Website control panel, you can create customized HTML e-mails in minutes which you can then send to your friends, family, art colllectors, business acquaintances, and more!
What is a customizable HTML e-mail?
It's a beautiful e-mail with graphics - just like the ones that you receive from Amazon.com, HomeDepot.com, and other retailers.
What is customizable about it?
Absolutely everything! You can include your images from your website... you can include your headshot... you can include links to other websites... you can include images from other websites... and more! Best of all, you don't need any HTML experience in order to put together a beautiful e-mail.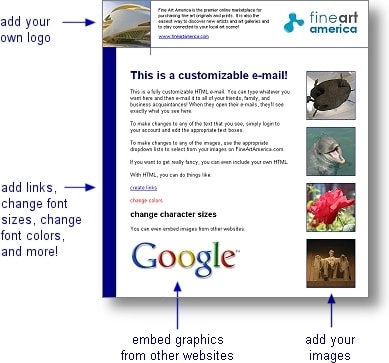 Who can I e-mail it to?
You can upload an unlimited number of e-mail addresses to your Artist Website and then e-mail all of them directly from your site in a matter of seconds. Each person on your list will receive a personalized e-mail (i.e. not a bulk carbon copy), and each e-mail is sent from your personal e-mail address (e.g. myaddress@hotmail.com) - yes, we can really do that!
Why would I want to send out a bunch of beautiful e-mails?
Beautiful artwork deserves beautiful e-mails! There is simply no better way to keep your friends, family, and potential art collectors informed of your latest works, upcoming events, and more! Imagine - every time you schedule an appearance at an art fair, every time you finish a new painting or photograph, every time you offer a discount on your artwork... you can create a beautiful e-mail in a matter of minutes and then send it to everyone on your list!
You can now proactively drive people to your web pages and increase your sales!
Is there anything else that I should know?
Yes - when you send out an e-mail, you can track to see if and when it gets opened! Yes - we can really do that, too!
Are my e-mails and e-mail lists secure?
Yes - your e-mails and e-mail lists are always kept private. ArtistWebsites.com / FineArtAmerica.com will not send e-mails (e.g. newsletters, promotions, etc.) to anyone on your e-mail lists unless they have voluntarily registered to be a member of our site (i.e. registered as an artist, gallery owner, or art collector).